Linking up with Milk Friendly for the Cloth Diaper Link Up!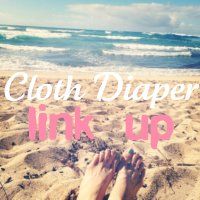 I've been inspired by the recent posts of two lovely blogs,
Naturally Attached
and
Milk Friendly,
to write about my own experiences with cloth diapering. I wrote briefly about my experiences
here
, but there was so much more that I didn't share. And after reading the aforementioned blog posts today, I remembered how overwhelmed I was when I first faced he idea of cloth diapering, and how for weeks I just relished every last detail I could find online about others' experiences. I also remember how my friends would look at me like I didn't know what I was getting into when I shared my excitement at using CD, and sarcastically say, "I'd like to see how much you like it after a few months!" I myself would reply, "Yeah, I imagine I just might end up getting too lazy and giving up if it's too annoying." So did I give up or do I still love CDs? Well, here it is, a long-overdue update about my experience with cloth diapers...
But first, a little backstory: Cloth diapering had always seemed to me like some rare thing only wealthy, extremely green, stay-at-home soccer moms did. Living in a third floor apartment, with only three shared coin laundry machines (located on the first floor) made me even more certain that I could never use CDs. But then my grandma sent us a bunch of cloth diapers for a gift. They looked so cute, and after reading about them online, I really wanted to use them. What I read from others was encouraging, and made me realize that CDs were not only easier than I had thought, but also much more common! However, I read mostly cases where people used their fancy HE machines with the options for extra soaks or spins. Would it be possible for us using coin laundry? We decided to give it a try.
START: Collect your stash
. This part was easy (and cheap) for us, because we received our CDs as a generous gift. My grandma chose
GroVia brand
, all in two, one size, velcro tab system, which she purchased from
amazon.com
. We started with 13
outer shells
in pink and purple, 24 organic snap in
soaker pads
, and 10 organic
booster pads
. She later sent us a couple more shells and soakers, plus 5
FuzziBunz one size pocket diapers
in white.
STEP 1: Laundry Detergent!
Before you strap these on your sweet baby's butt, you need to pre-wash them. But to do that, you need an appropriate laundry detergent! Just any old detergent WILL NOT do! But don't be intimidated! I used
this list
to help me decide. Since I was on a budget, I chose Planet as my first detergent, which i picked up at Whole Foods. More recently, I've been using Ecos. Both had a four star rating on the list, both worked great for me, both were affordable, and both can be found at natural markets, as well as some larger grocery store chains! When washing cloth diapers (prepping AND routine washing) use only 1/4 to 1/2 the amount you would usually use in a small load. This is hard to do, since it's easy to assume more is better when cleaning heavily soiled laundry, but less detergent means less soap build up. I try to go only halfway up to the first line of my detergent's measuring cup.
STEP 2: Prep!
FuzziBunz need only be washed once before use. GroVia, on the other hand, require a little more prep-work in order to get the soakers at full absorbency! For this, I took them to my mom's house, so I wouldn't have to spend hours (and many quarters) in the coin laundry. The outer shells needed only one pre-washing, but (according to their instructions) the soakers and boosters need to go through a wash/tumble dry cycle 5 to 6 times before they are ready. My mom was very obliging in letting me leave them at her house where she could help finish the process in her spare time over the next couple days.
STEP 3: Wait...and fit!
Now I was ready to use my cloth diapers. Or was I? The GroVia and Fuzzibunz diapers we use say they are one size, and fit from birth, but November was born 6lbs 15oz, and I just didn't feel like she could fit into them yet. So for the first few weeks of November's birth, we used Seventh Generation newborn disposables. This really showed us just how much we would be spending, should we abandon our hopes of using CDs! I can't remember exactly how many disposables we went through, but I'm pretty sure it was about two packages a week @ $12 a package. That meant we were spending $24 a week! Once she gained a couple pounds, we were more than happy to switch to cloth.
Using One size diapers on a newborn
: FB diapers had six places to adjust the sizing in order to fit a small baby. Although they did fit perfectly, I had to admit it was annoying going through all the time and effort to find the perfect sizing and adjust all five diapers. But since we only had 5, these were to be our 'backup' diapers...as long as the GroVia would fit! With a little experimenting, we got them to fit just fine! They key was to focus on getting a snug fit around the thighs, and securing the velcro tabs low on the rise (similar to how we strap on disposables!)This is one reason why I like the velcro tabs, versus the snaps: the velcro give you freedom to secure the tabs wherever you need to, low or high on the waist rise. Another factor in fitting a newborn is avoiding rubbing the umbilical stump. Even after her stump fell off, she still remained a little red and would easily become agitated. To avoid rubbing, we would fold over the top part of the soaker pad toward the shell. This created a little bulkiness, but it left a good space in between her stump and the shell/her clothes.
STEP 4: Use!
Now we really were ready! We snap in the soaker pads to the outer shell with the GV system, adding a booster pad for night time to keep her feeling dry. We change the outer shell daily or whenever it is soiled, and change her soaker about every two hours, except for at night. Now that she sleeps longer and sounder, she can sleep in her diaper through the night with the help of the booster pad! We make sure the shell covers all of the soaker (don't let the inner leg gussets poke out of the shell, or they will leak!) With the FB system, we pre-stuff the liners into the pockets, making sure the pocket opening is folded down beneath the waist band of the diaper (if the liner or pocket is poking above, they will leak!) before snapping them on. As she grows, I adjust the sizing buttons where necessary. I've only had to do this about three times...and it is still annoying. When we go out, we bring
Kushies wet bags
to tote any soiled diapers. They don't stink, and they don't leak! When we get home, we put the soiled diapers and wet bag into the diaper laundry bin.
WASHING
: This is the part that has most first time CD users shaking in their boots! But it's not as bad as you imagine. Here's what we do: We have two
diaper bins
lined with a garbage bag, one for trash, and one for CDs. (We used to line the diaper bin with a large washable wet bag, but I didn't like it much: it would fill with water in the washer, and cause the machine to become unbalanced. Now we just re-use garbage bags until they get too stinky). When a diaper is soiled, we simply put it in the diaper bin; no rinsing, no soaking...we don't even rinse the poo! (At first we tried rinsing the poo, but just ended up making too much of a mess without getting much off, and we realized her runny breastmilk poop washed out of the diapers perfectly each time, regardless of rinsing.) We wash our diapers every 2 or 3 days. I try to wash the diapers whenever November goes to my mom's house while I am at work, in order to cut down on cost. We used to air dry our soakers (we still usually air dry the outer shells) until they started getting really hard and causing too much friction on Nova's sensitive, dry skin. Now we tumble dry them so they are nice and soft! And since we usually do one or two loads each week at my mom's our cost has still remained really low, usually costing no more than $4 a week! When I do wash them at home, I usually wait until Spencer comes home, so I don't have to worry about carrying an armload of baby and diapers and detergent down the stairs and back again. Yes, sometimes the washers are all full and I have to come back later, and it's annoying not having a washing machine in my apartment, but it's still totally do-able! And we are hoping to move into a first floor, W/D included home once our lease is up at the end of summer!
So do I still love CDs? A wholehearted YES! They are STIIL just as easy as disposables, STILL easy on the go, STILL worth the washing effort, STILL cheaper, STILL cuter! Our diapers come clean after a hot wash in our community coin machines, as well as my mom's machine. The poo stains bleach out naturally after a day left in front of a bright window. Nova has rarely ever leaked, and only gets occasional redness as mentioned above, which we are remedying with a daily water-only bath plus coconut butter rubdown. I read many reviews of other moms using coconut butter with CDs to no ill effect (most other diaper creams damage CDs!) and so far, the coconut butter seems to be making Nova smoother, less red, AND is washing out of our CDs just fine. Our current stash of 15 shells, (about) 26 soakers, 10 boosters, and 6 backup diapers have been more than enough. We have never run out or needed to use disposables or even our GroVia biosoakers (hybrid disposable inserts that fit into the outer shells), and we have more than enough to fill the diaper bag and to stash at my mom's house for her use.
So while I consider us incredibly lucky, considering we got these as a gift and are able to use free resources for laundry, like my mom's house, I believe ANYONE can use CDs if you truly WANT to. On a budget? Ask for some on your baby shower registry! Buy them used on craigslist or ebay! Buy gender neutral colors to use for future babies! Don't have time for laundry? Try a diaper laundry service! It's so worth it!